Speech-Language Pathologist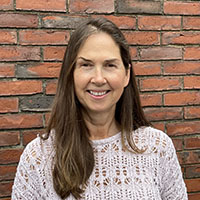 Gail is a highly skilled speech-language pathologist who worked with children of all ages for 24 years in school settings. She is licensed in the state of Massachusetts and is a certified member of the American Speech-Language-Hearing Association (ASHA). Gail received her Bachelor of Arts degree in English from Fitchburg State College before earning her Master of Science in Communication Disorders from Boston University. Gail is dedicated to improving her professional knowledge and earned an ASHA Award for Continuing Education (ACE) which recognizes professionals who have demonstrated their commitment to lifelong learning.
Gail has experience working with a wide array of communication disorders, and she enjoys working with students who have delays or disorders related to autism, articulation/phonology, apraxia of speech, receptive/expressive language impairment, word retrieval difficulties, stuttering, and social language challenges. Gail is adept at evaluating children's communication abilities, making recommendations, creating treatment plans, and effectively communicating their needs with parents/guardians based on clinical findings.
Gail lives in Chelmsford with her husband, Jim, and her dog, Mabel. She enjoys reading, trying out new recipes, gardening, and outdoor activities, as well as spending time with her three children Denice, George, and Carah, and other family members and friends.