Speech-Language Pathologist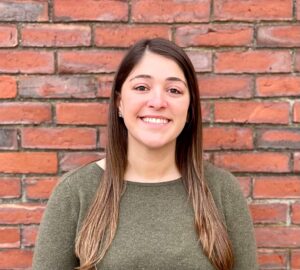 Kaitlyn is an enthusiastic speech-language pathologist who believes strongly in creating positive relationships with her clients and families to ensure each client is achieving their communication goals. Kaitlyn completed her undergraduate degree from Northeastern University and went on to achieve her master's degree at Northeastern University in speech-language pathology. She is licensed in the state of Massachusetts and holds a Certificate of Clinical Competence from the American Speech and Hearing Association. Kaitlyn began her career in speech-language pathology working at a local public elementary school, where she continues to work today.
Kaitlyn has extensive experience working with preschool and school-age children who present with a wide range of disorders including articulation/phonology, apraxia of speech, expressive and receptive language disorders, auditory processing disorder, social pragmatic disorders, fluency, non-verbal/AAC, autism spectrum disorder, rare genetic conditions, down syndrome and developmental delays.
In addition to therapeutic services, Kaitlyn has expertise in completing comprehensive speech and language evaluations, writing Individual Education Programs (IEPs), attending IEP meetings, consulting with education professionals, and training educational staff. Kaitlyn lives in Reading and enjoys teaching spin classes, playing tennis, trying new restaurants, and spending time with her family.